Sustainable Technology - Agriculture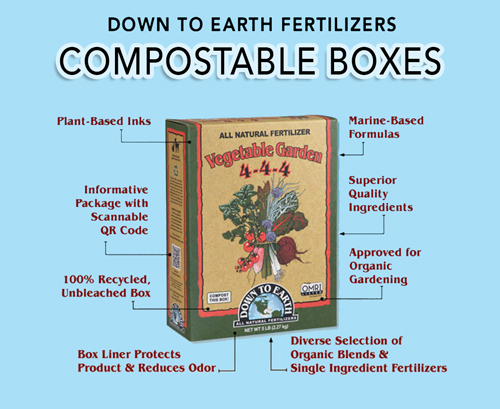 OUR COMPOSTABLE BOXES
WE MAKE THE BEST BOXES IN THE BUSINESS
From our small, simple beginnings more than 43 years ago, Down To Earth All Natural Fertilizers has grown into one of the Country's leading manufacturers and distributors of natural fertilizers and premium organic gardening products. 
Down To Earth Brand fertilizers are packaged in ecological, sustainable and completely compostable cardboard boxes. Our boxes are 100% recycled and unbleached cardboard printed with plant based inks.
This is because our commitment to Natural and Organic Gardening includes providing our home and garden customers with packaging that can be used directly in their compost pile, to help their soil building efforts. 
 Our Natural and Organic fertilizer comes in large bags, small bags, boxes, and mini box sizes, all perfect for the gardener, avid grower, and small farmer. DTE fertilizers are also widely used in commercial crop and greenhouse production.
More about our packaging, and use of natural Kraft bags,  Click Here.