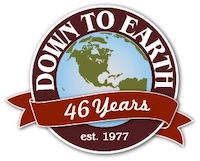 DOWN TO EARTH DISTRIBUTORS, INC.
WHOLESALE
At Down To Earth, we emphasize product lines that support the Garden-to-Table lifestyle and sell tools that enable people to grow, prepare and serve nutritious food.
For more than forty years, our tagline has been "Practical Goods for Natural Living" and it still rings true today.

Our website features thousands of products for the home and garden, including our Down To Earth brand of natural, organic fertilizer which we carefully formulate and manufacture on site.
As a wholesale customer, you will be able to login securely to get the latest product and pricing updates, view current sales and closeouts, create your favorites lists and, most importantly,
place orders any time at your leisure day or night, weekday or weekends. Your order will be reviewed by your assigned salesperson, who will always get back to you promptly.
Wholesale accounts are available to retailers, nurseries, distributors, commercial farms, as well as food service and hospitality industries with resale ID's.
NO AMAZON RESELLERS. PLEASE DO NOT APPLY.
If you are a consumer looking to purchase Down To Earth products,
ask your local retail store to call us at 1-800-234-5932

Who do we sell to?
To view a list of the types of stores, groups and businesses we sell to, click HERE
 
TO APPLY FOR AN ACCOUNT
follow the steps below.
For questions or concerns about your account,
please call Toll Free:
800-234-5932
Office Staff Available:
Monday - Thursday
8:00 am to 4:30 pm Pacific Time
Friday: 8:00 am to 3:00 pm
For other concerns, Please click contact us
The following steps will assist you in filling out the proper paperwork to apply for an account.
You will need a printer to complete this process.
---
  


How To Apply
STEP 1:
Our files are in PDF format.
 You can Download and install a Free copy of Adobe Acrobat Reader.
​
Contains information about :
• Our minimum opening order
• Reorder minimum amount requirements
• Sales Terms and Return Policy.
 APPLY FOR AN ACCOUNT - FIND THE FORM YOU NEED
Download and print all the pages of the Sales Forms.
​Fill them out and fax them to us at: 541-485-7141, or,
email your completed form to sales@downtoearthdistributors.com. (The email link is provided on the forms).
In order to be considered for credit terms, please complete and sign the Net 30 form.
If you have any questions regarding the form or questions regarding NET 30 arrangements,
please call 800-234-5932.
You can also find "Sales Forms" under our RESOURCES tab at the top of the website
.

​
STEP 4: MAKE YOUR FIRST ORDER
Once you are approved as a Down To Earth Customer,
you may place orders with us.
Ask your sales person to create an online account so you can start using the website to place orders.
The website account will have a password and allows you to place and view past web orders online.
This different than your main account.
You can also download forms, and can fill out the Order Form by typing directly into it and saving it.
Email the completed form to sales@downtoearthdistributors.com,
or print and fax the form to 541-485-7141. 
Thank you for visiting Down To Earth Distributors.