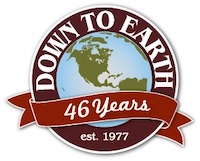 DOWN TO EARTH DISTRIBUTORS, INC. 
WHOLESALE HOME AND GARDEN PRODUCTS
Our Beginning
Down To Earth™ began in Eugene, Oregon, in 1977 in response to the growing segment of American consumers who were looking for alternatives to plastic and synthetic materials. At the forefront of the burgeoning organic movement of the 1980s, we began making fertilizers out of our storefront shop to provide our customers with a natural, economical option for their gardens. Today, we own a retail store located in a beautiful historic building in Eugene, a nationwide distribution center, and a local natural and organic fertilizer manufacturing facility. Over the years, and due to the popularity of our products, we have greatly expanded, yet our commitment remains the same. We strive to provide our customers with a reliable source and a wide selection of high-quality, natural, and sustainable products to enhance people's lives with products that increase health and happiness.
Practical Goods for Natural Living
The Down To Earth™ slogan "Practical Goods for Natural Living" reflects our thoughtful selection of items made from durable, recycled, or biodegradable materials such as cotton, felt, bamboo, ceramic, glass, cast iron, wood, and stainless steel.
About Our Down To Earth Fertilizer Brand
We take pride in providing effective and environmentally friendly products for plant care and crop fertilization. Our long-standing partnerships, specialized manufacturing processes, and deep commitment to honest and ethical organic products allow us to offer our customers true, premium-quality fertilizers, garden minerals, and potting soil, many that display the OMRI logo for Organic use. For more than 30 years, Down To Earth™ has been carefully formulating our fertilizers, soil amendments, potting soils, and composts from the very best sources of organic plant nutrients in ideal proportions, without the use of synthetics, growth stimulants, or low-quality fillers, such as poultry waste. So, whether it's one of our multi-purpose fertilizer blends, single-ingredient fertilizers, or specialized soil amendments, you can be confident that you are providing your customers, garden, or farm with the highest quality product available.