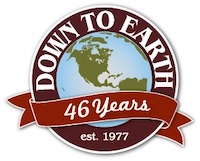 DOWN TO EARTH DISTRIBUTORS, INC. 
WHOLESALE HOME AND GARDEN PRODUCTS
At Down To Earth, we emphasize product lines that support the Garden-to-Table lifestyle and sell tools that enable people to grow, prepare and serve nutritious food.
Since 1977, our tagline has been "Practical Goods for Natural Living" and it still rings true today.
Down To Earth products ship FOB from Eugene, Oregon. Shipping for many of these products need to be palletized and shipped to you via common carrier to achieve the best freight ratio. From our fertilizer and many garden products, to our glassware, ceramics and oversized products, most of these items only ship via common carrier on a pallet.
If you are east of the Rocky Mountains, we strongly advise ordering at least $2000.00 that will ship on a pallet. If you need a lift gate, if you are in a residential area or need an appointment these extra charges will add to your freight costs.
When ordering it is best to order a good selection of products even doubling some of your key items so your supply will last until your next reorder.
As a new customer prospect, when deciding if we can meet some of your product needs we advise you to inquire and use our wholesale pricelist to get a general sense if it will be economical for you and your business to order from us.
Our website features thousands of products for the home and garden, including our Down To Earth brand of natural, organic fertilizer which we carefully formulate and manufacture on site.
After becoming a wholesale customer, you will be able to login securely to get the latest product and pricing updates, view current sales and closeouts, create your favorites lists and, most importantly, place orders any time at your leisure day or night, weekday or weekends. Your order will be reviewed by your assigned salesperson, who will always get back to you promptly.
Wholesale accounts are available to Brick and Mortar retailers, nurseries that resell to the general public, distributors, and also commercial farms that can pick up at our Eugene, OR Warehouse.
We are not accepting Amazon retailers. Please do not apply.
Down To Earth Distributors, Inc. 
Wholesale Sales Only
info@downtoearthdistributors.com
Who do we sell to? Click here to learn more
Back to Resource Page